Hundreds gathered at Smithfield to witness the launch of the stunning Wizarding World Wand installation in Stoke-on-Trent, in celebration of the upcoming release of Fantastic Beasts: The Secrets of Dumbledore. Wizarding World fans of all ages were able to witness the beautiful light display and music that marked the start of the highly anticipated tour and were delighted with on the spot prizes to selected fans wearing costumes.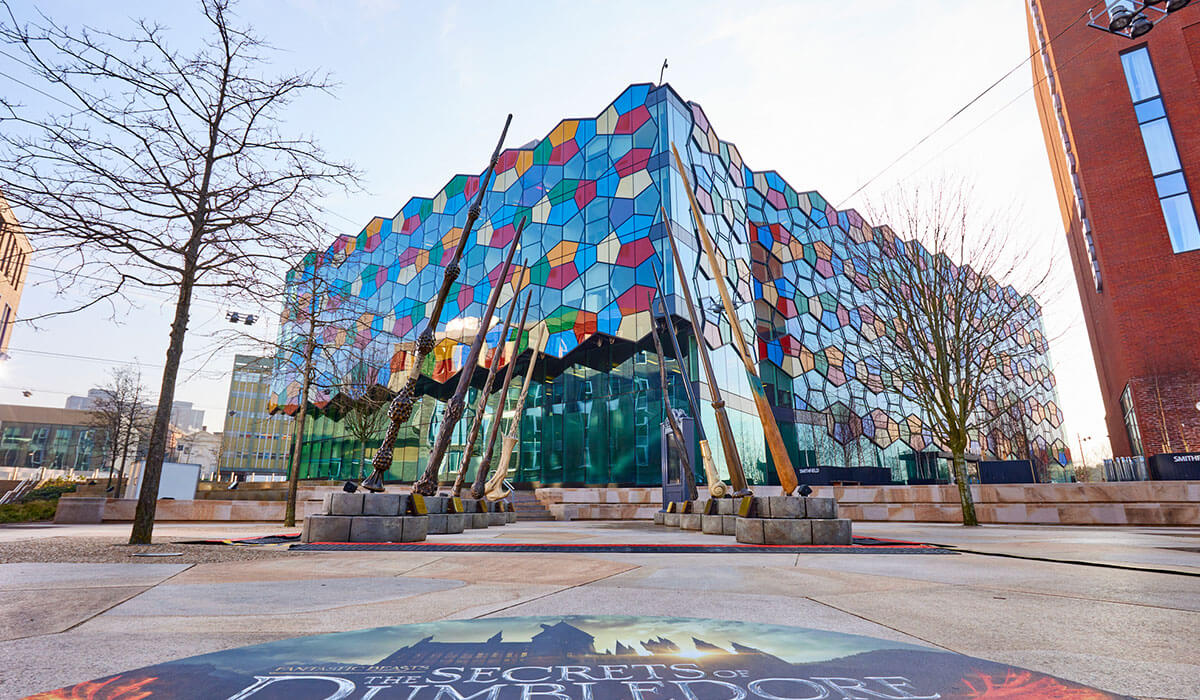 The launch celebrations were kicked-off with a dynamic wand training class, led by wand choreographer Paul Harris, for local children from the New Vic Theatre Drama Club. The festivities continued with local fan Jessica Ryder, aged five, being given the opportunity to switch on the lights alongside Lord Mayor Cllr Chandra Kanneganti and Paul Harris.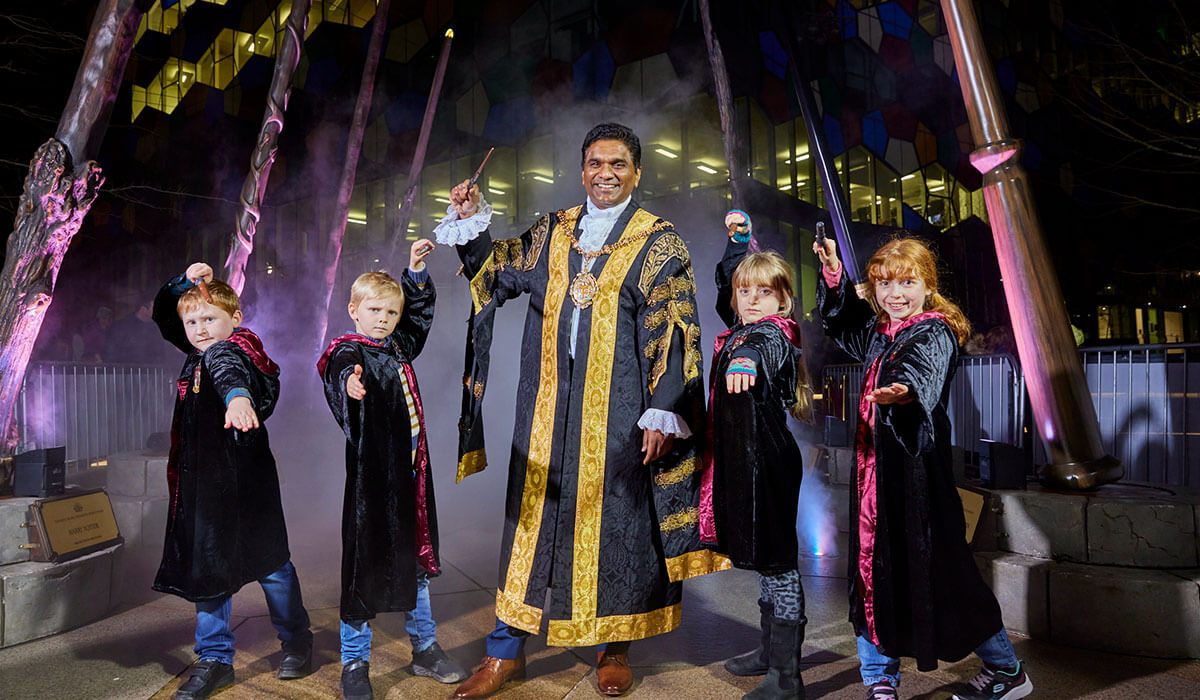 Mum of Wizarding World super fan Jessica, Helen Ryder, said "I was so proud to see my daughter Jessica up on stage lighting up the magical wands in Stoke-On-Trent! We love watching the Fantastic Beasts together and I think she might be the UK's biggest fan!"
Standing 15 feet tall and set in concrete bases, the nine wands – representing those belonging to some of the favourite characters in the Harry Potter and Fantastic Beasts films – will be illuminated every evening from 6:30 – 10:30pm, from today until 27th March. Adding to the spectacle, every half hour during that time, the wands will perform light shows, set to thrilling music from Harry Potter and Fantastic Beasts.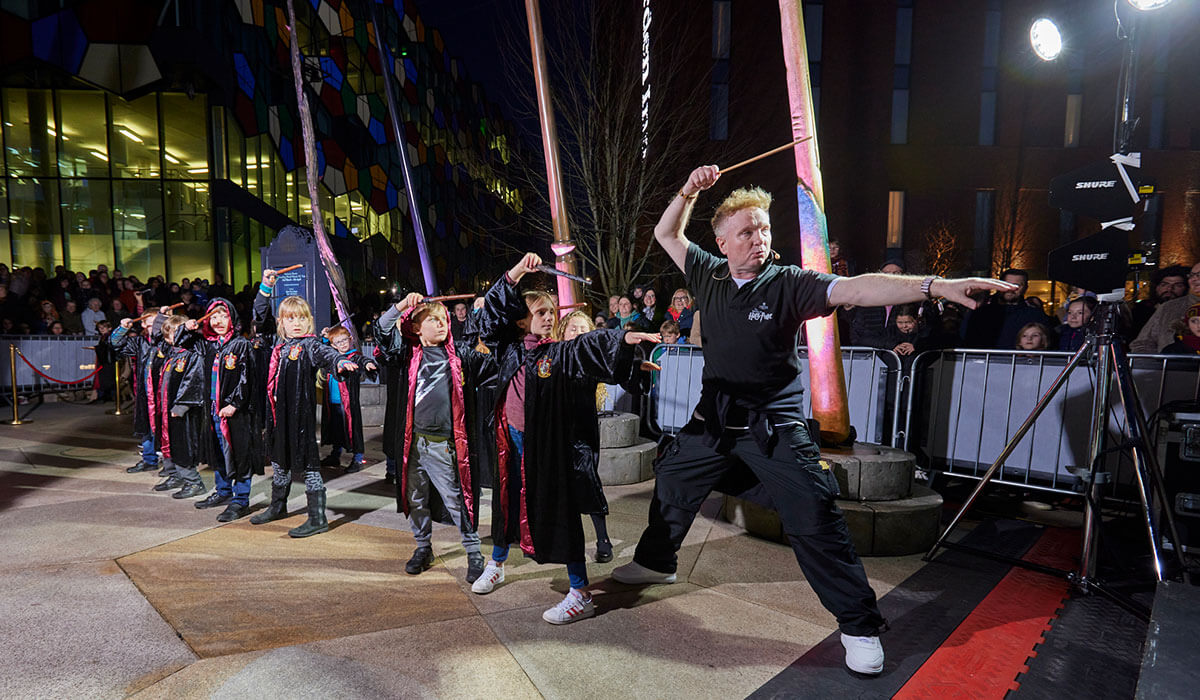 The four chosen cities -Hull, Birmingham, Stoke-on-Trent and Reading – were voted for by the public and will each host the exciting installation for seven days. Hull, which received the most public votes, launched the tour, and was followed by Birmingham. Now the wands are visiting Stoke-on-Trent before concluding the tour in Reading, where the wands will be display in the Oracle Shopping Centre from 30th March until 5th April.
Councillor Lorraine Beardmore, Cabinet Member for Public Health, Culture and Leisure, said, "We are absolutely delighted to have this exciting installation here in Stoke-on-Trent and I want to say a huge thank you to the residents of the city for voting for us to be one of the locations, and huge thanks to Warner Bros and our partners who have helped make this happen.
"The Wizarding World has played such an important part in so many peoples' lives and resonates with so many across the generations, and we are beyond thrilled to be able to celebrate the upcoming Fantastic Beasts: The Secrets of Dumbledore film with fans across the city.
"This is fantastic news for Stoke-on-Trent and further highlights the incredible work that we have done with our partners to promote the city as a destination for tourism."
Paul Williams, Lead Director for Events and Marketing, Stoke-on-Trent BID said, "Marking the release of the latest eagerly anticipated globe-trotting film adventure, Fantastic Beasts: The Secrets of Dumbledore, Stoke-on-Trent BID are delighted to welcome the magical Wizarding World Wands which will illuminate the city centre to celebrate the film's launch. As well as thanking Warner Bros for making the magical experience happen, we would also like to thank the many Fantastic Beasts fans who voted for the city to be one of the destinations specially selected to host this impressive installation."
Joel Chandler from Genr8 Developments said, "we are so pleased to be supporting Warner Bros in delivering and hosting this outstanding installation at Smithfield. It is brilliant for Stoke and I have no doubt will attract a huge audience of wizarding fans. We are looking forward to working with partners to maximise the opportunities this installation will bring."